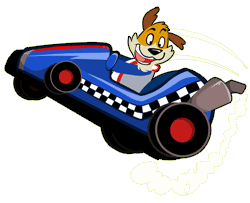 Team Backwheel is up to its old tricks! The notorious racing team will stoop to any level to win the race and take home the championship! There is only one driver who has the skill, determination, and luck to defeat them…and that's YOU!
Join Checkers and team Kart Trax and race your way to the victory lane! But watch out: Team Backwheel's Johnny and Max have made illegal modifications to their carts and set traps along the way to stop you from finishing the race!
Do YOU have what it takes?
The animation for "The Big Race" was created with the help of our good friends at Bang! Bang! Animation.