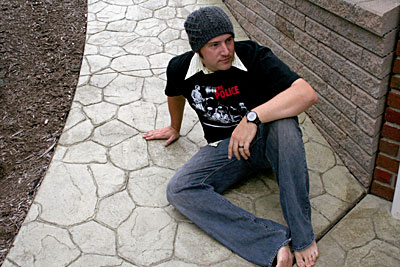 Director of Creative Development
"MVOA!" National Licensee Director
Born and raised in Philadelphia, PA, Ron grew up drawing and entertaining friends and family. Finding ways to express his loony energy he filmed movie skits with friends, drew comic books, and did puppet shows for whoever was interested. "Halloween was always the best time of the year for me," Eckler says with zest. "It's a license to be as goofy or creative as you want to be. Our house was always the attraction of the neighborhood."
Eventually leaving the east coast to Pittsburgh, Ron graduated from The Art Institute of Pittsburgh with a double major in Computer Animation and Multimedia in 1997. Ron was hired by Ernst & Young, llp. in Cleveland shortly afterwards as a media specialist and spent five years as a consultant. "It was a great opportunity to discipline my creativity," Ron acknowledges.
In early 2002, Ron left Ernst & Young to work at Cybergraphix, Inc. as head of the creative development department. "They wanted someone who loved what they did (creatively) and not just someone looking for a job. It was right there in the newspaper ad. I had to apply for the job!" Ron still has the yellowed newspaper clipping in his drawer. "It's the best decision I made in my life. I couldn't ask for a better job or teammates." Ron retains his corporate graphic design experience but indulges in creative freedom with Cybergraphix. Case in point, the latest massive project, "My Very Own Adventure!".
With the "My Very Own Adventure!" project, Ron and his team are doing things that not many animators and artists have the chance to do these days. With many jobs going overseas now, the American entertainment industries, in particular the Animation field, needs hope for a brighter future. Eckler says, "We hope to inspire the love of cartoons again in American children, and being able to put kids actually IN the cartoons, we hope to bring back the excitement of sitting down in front of the TV and 'really getting into it'!".
Ron has come full circle with "My Very Own Adventure!" and the old days of being "that wacky cartoonist" have paid off as he leads the "MVOA!" team in their own adventure of successful performance.