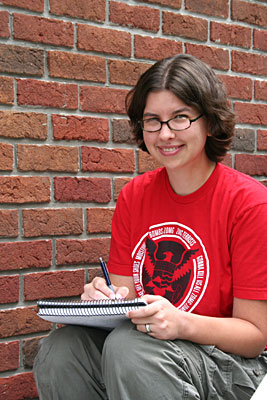 Designer / Animator
Kari grew up in Mogadore, OH where she spent most of her childhood drawing unflattering pictures of her teachers and watching cartoons.
She graduated from University of Akron with a B.F.A. in Drawing/Painting and minors in Illustration and Japanese.
Ever since she was a kid, her dream was always to go into animation, but she had begrudgingly settled on the more practical idea of doing freelance illustration and web design for a living. Thankfully, she was approached by Cybergraphix for an animation position and is now living out her dream of drawing cartoons all day.
Kari enjoys watching cartoons of all kinds, playing video games, attempting to speak Japanese, and offbeat humor.