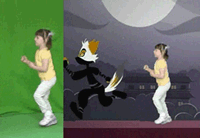 "My Very Own Adventure!" puts you into a video on DVD.
It's like visiting an instant Movie studio!
1 - Pick one of our many Adventures.
(there are plenty to choose from, cartoon and live action)
2 - Act out different scenes on the green screen.
(the director will tell you what to do, when, and for how long)
3 - Walk away with your take-home DVD.
The whole process takes only about 5 minutes.
You can share the spotlight if you wish and star in a video with up to four of your friends!