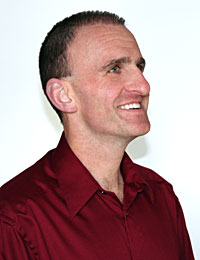 Rob Robertson
Founder of Cybergraphix, Inc. and "My Very Own Adventure!"
Born, raised and residing in Nova, Ohio, Rob Robertson has successfully blended an entrepreneurial spirit and knack for publishing technology with an enjoyment of sports and play.
In elementary school, he was often found on the Little League baseball field. At Mapleton High School, he participated in cross country and track. By exhibiting excellence in both sports and academics, he was honored as an "Academic Athlete."
Based on college placement tests, Robertson was able to take college classes during his senior year, focusing on computer programming and mathematics.
He attended the University of Akron, majoring in computer science with a minor in business. While in college, he was a computer consultant for BookMasters, Inc. where he was taken under the wing of the company's founder, Tom Wurster.
He took a brief hiatus from college to manage the publishing system for Loral Defense Systems, the defense contractor that became Lockheed-Martin Aeronautical Systems. While still working at Loral, he returned to college and graduated Summa Cum Laude with a B.A. in Business Administration.
On May 9, 1992, he started an interactive media company, Cybergraphix, Inc., in his hometown of Nova. In 1994, he left Loral to run the organization full time. In 2007, Cybergraphix launched "My Very Own Adventure!", a system that creates personalized cartoons in real time where every child has a starring role.
Rob is an avid runner and cyclist, competing in hundreds of road races and triathlons, including the Columbus Marathon and Ironman Canada. He volunteers as a coach for track and cross country at his former high school.